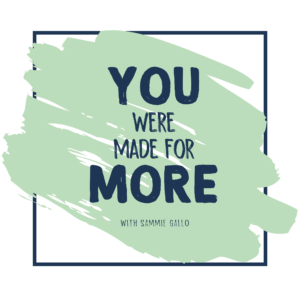 Abundant Life: You Were Made for More Podcast
John 10:10 is a promise fulfilled.  Jesus came down to Earth so that we would have life – and have it abundantly!
We pray that every Church would have:
• Teenagers knowing and believing who they were created to be – because our identity changes everything!
• Youth groups that discuss issues such as sexuality and relationships with teens.
• Parents equipped to create safe spaces for teens to wrestle with the differences between our culture & our faith.
• Students who have been set free by the power of the Gospel and understand how the Good News equips us to fully live out our earthly relationships.
So, buckle up as we take this journey and  look at what God has to say about friendships, relationships, sexuality, dating, and ALL the things in between.
We are so glad you're here!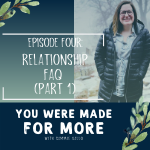 Episode 4 - Relationship FAQ, Part 1
In this episode, Sammie covers three of the top questions about relationships that students (and some adults!) ask. Welcome to part 1 of our relationship "crash course!"
We talk about these three questions:
1. How do you define dating?
2. How far is "too far" physically?
3. Should I date someone who isn't a Christian?
If you have questions you'd like to see us answer in part 2, please send them to Sammie (abundantlifeym@gmail.com).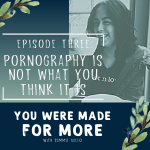 Episode 3 - Pornography Is Not What You Think It Is (With Kristie Cossel)
In this episode, Sammie interviews Kristie Cossel, a youth ministry director who has personal experience with pornography addiction - but more importantly, she's gained freedom from her addiction through a healing journey. We talk about what that has looked like for her, practical steps for parents and youth leaders wanting to have conversations with students about this topic, and what her day-to-day looks like to fight the temptation and protect her marriage.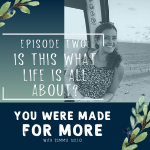 Episode 2 - Is This What Life Is All About? (With Taylor Hartz)
In this episode, Sammie interviews her friend, Taylor Hartz, about what it means to follow Jesus in your early 20's as a single gal. Taylor brings a ton of wisdom to the table - not only because she's submitting to what the Lord is teaching her but also because she's learned from her past relational decisions. I'm so thankful for Taylor's heart, her vulnerability, and how she shares honestly about why God makes us for "more" than we even realize! Our prayer is that you know redemption is waiting for you, too. You are not too far gone. You are not too messy, too broken, too impure, too unclean. You are seen, known, loved, and purposed for a life free of the bondage of sexual sin. The leap of faith is wild, it's countercultural, and, many times, laughed at - but the Grace you jump into is liberating, satisfying, and soul-resuscitating.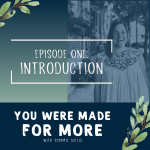 In Episode 1, you meet our host - Sammie Gallo - and learn all about her heart behind making sure every person hears the words "you were made for more."
Subscribe on BuzzSprout
Receive a notification when a new episode is posted!
Want to Recommend a Guest?
Is there someone we should feature on the podcast?  Let us know!