By Kristen Knouff, Pittsburgh Area Director and Major Gifts Officer for Caring Hearts Ministry
I had only been married for about two weeks. My dad, who had been sick and in the hospital for the better part of three months, was in the ICU after having emergency surgery. And there I was, in JFK airport in New York, boarding a plane for Johannesburg, South Africa, from which I would then fly to the tiny, impoverished country of Malawi. This was before FaceTime was a thing, and cell phone service in the middle of the African bush areas was spotty at best, anyway. I love to travel, I had been excited to get to serve with a group of colleagues and to build relationships with my new friends in Malawi, but the timing was absolutely terrible and, despite my best efforts, I was terrified. What if something happened to Dad? What if no one could get in touch with me? What if I couldn't get home? How could any brand new bride leave their husband for two weeks like this? What if I ended up with malaria or yellow fever? Was I being selfish to go on this trip? Was I making the wrong choice? How could I possibly serve people in one continent when my mind was in another? Why in the world would God call me to this trip? Why didn't I back out when I had the chance?
Fear.
There's something really strange about fear–in general, we have a love/hate relationship with it. Sometimes we use other terminology to categorize "fear" that we actively choose: thrill rides, scary movies, suspense novels. A lot of people love the jolt of adrenaline that they experience from a roller coaster, but if you really consider what that means, it's that their mind understands the experience to be controlled, but their body interprets it as something that warrants a chemical response. We understand that we aren't in danger mentally, but not physiologically.
Fear is an emotional response that is born from the absence of two things: control and trust.
Think about it–when you cook your own food, you are in control of the ingredients that are used, and the way in which you prepare them, and so you don't have to fear that your meal is poisoned or gross. And, when you eat food in a restaurant, you don't have any control over the food once you order it, but there is an implicit trust that, again, the food won't be poisoned (or, hopefully, gross). Perhaps this is a silly example, but it illustrates the point.
To consider this from another angle, there are people in this world–you probably know them–who cannot function without taking charge. We might call them "control freaks", and they might drive us crazy, but the truth is that those are people who cannot trust others around them to do what they say they will do, and who are certain that easing up, however slightly, will result in disorder. They avoid fear by trying to balance out their inability to trust with an overabundance of control. There are those on the other side, too–those who trust everyone, whether or not that trust has been earned, because they rely on those people to provide the order to their chaotic life. As a whole, we fall on every part of the spectrum with regard to trust, control, and fear..
We also fall on every part of the spectrum when it comes to our faith in God. But consider this: when we have a solid relationship with God, we cannot be afraid. Why? Because we grow to trust God and know that God is in control. Our faith in God removes the two ingredients required to experience fear. Obviously, it's easy to say that, and much harder to do, but that doesn't make it less true.
For me, it can be a little bit easier to think about how I can develop a faith that is stronger than my fears by breaking things down. So, here are a few sets of circumstances in which you might (okay, will) find yourselves, and how you can think about God in the midst of them:
You WILL mess up. You might run. You might ignore it. You might lose patience. There are so many ways to get off track. God can take literally all of your screw-ups, sins, and everything else, and do Holy Damage Control to right the course. Not only CAN He, but He DOES. All the time. More than we know. Choose to have faith in the God who is bigger than your worst mistakes.
You WILL face hardships. Trouble comes in so many different packages, and we can't possibly predict when, how, or even why we will face tragedy, loss, betrayal, or other challenges. We just know that they are inevitable. What if we could take ownership of the reality that God, too, is inevitable? If we can take hold of God's presence, His abundant compassion for us–his new mercies every morning washed over us–then we can better manage all that God has called us to do and to be. Choose to have faith in the God who is bigger than your most profound challenges.
You WILL be called by God in small ways. The ways in which you are called aren't all gigantic, life-altering things. But, some of things that seem to be relatively inconsequential will end up changing your life–or could be used to change someone else's. Big or small, when God calls you, it's for a reason, and we need to respond. Plus, when you make a habit of stepping out and seeking God's calling in small things, it is really just practice for when you are called to step out in bigger ones. Inviting a friend to church might be a tiny bit scary, but having to make a decision like moving across the country for a job, or to stand up to someone who you love who is actively choosing to live in sin, are much bigger, harder things to do. Choose to have faith in the God who cares about the details of your life.
You WILL be called by God in big, potentially scary, ways. Early in 2019, I made the decision to leave a job that I loved because the environment in which I was working had grown increasingly toxic. I didn't have another job for months. I lost friends. I cried every day for two months (and that's not an exaggeration). It was incredibly hard, but I knew that was how God was calling me to respond, and I am grateful for the journey. When we allow God to lead us, we cannot get lost. God goes before us and offers guidance to help us stay on the right path, even when we have no idea where that path takes us. We don't know what we don't know, and so we can't control it. However, we can choose to live in fear, with every expectation that the worst will happen if we take steps forward. Or, we can choose to live in faith, with the absolute certainty that, regardless of what is to come, God will somehow use it for good, and has already prepared the way for us. Choose to have faith in the God who is bigger than your deepest fears.
You WILL experience great blessings. Just like hardship, gifts and blessings come in many different packages, too. They are waiting for us, and God often asks us to take steps of great faith–to face our fears and hardships–because that is the only way through which we can also come face to face with the beauty of his gifts for us. If you have read Psalm 23, then you'll recall when David says in verse 4 that he's walking through "the valley of the shadow of death." Did you know that so many ancient cities were built up in valley areas because they offer the most fertile soil and the easiest access to water? Valleys are areas of great growth. So, too, are the "valleys" in our lives. And, when we come to the other side, we often come out stronger, and our faithfulness is rewarded. Choose to have faith in the God who is bigger than your greatest blessings.
I would be crazy to suggest that we will ever get to a point in life where we are completely free of fear. I'm a parent–it's absolutely the most beautiful, amazing, life-bringing, terrifying experience. I will always have to manage my fears. I would also be crazy to suggest that we deal with all of our fears in the same way–sometimes, we succumb to them, sometimes, we face them, and sometimes, we avoid anything that might cause us to fear. What if, instead of all of those choices, we view those difficult moments as opportunities to evaluate our faith? What if we took just a few moments to pause, and really consider our relationship to God–do we really trust Him? Do we really believe that He is in control? And, maybe, if we take time to think through those things, we can, slowly but surely, find that we can truly answer "yes", and our fear will be washed away.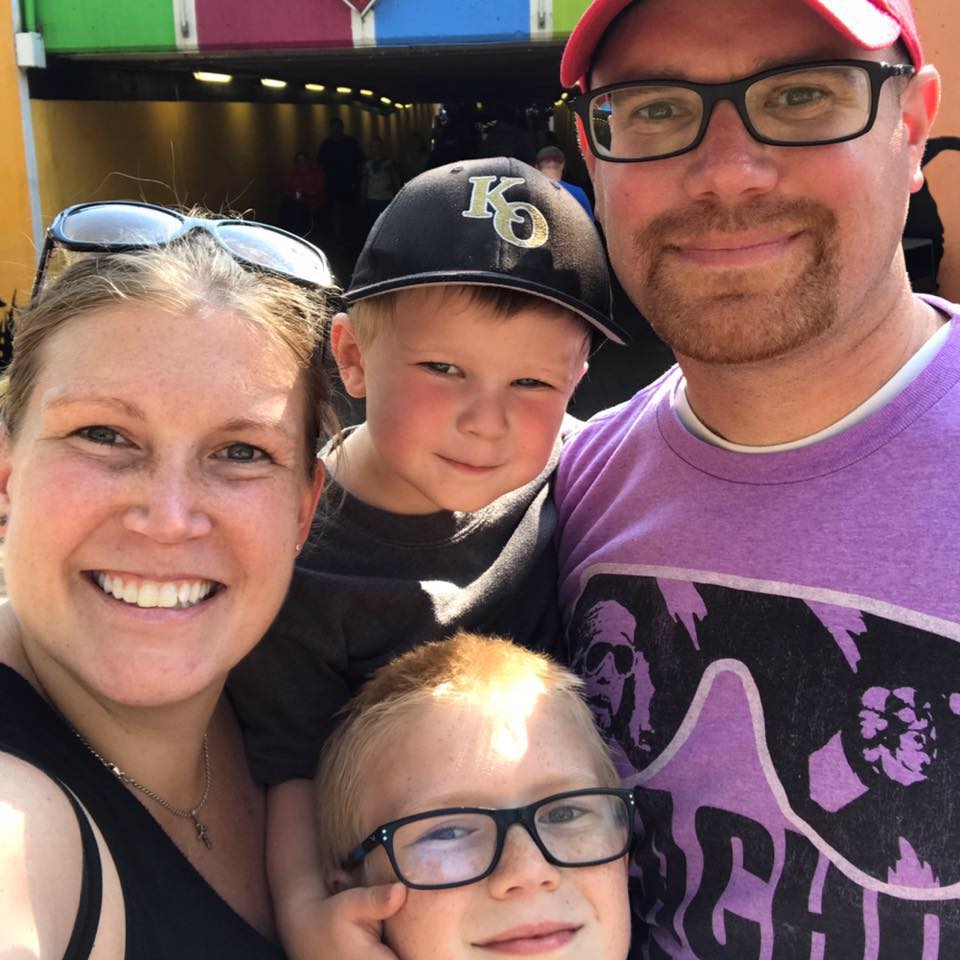 Kristen Knouff is the Pittsburgh Area Director and Major Gifts Officer for Caring Hearts Ministry (and she would LOVE for you to join her on a mission trip to Mexico!). She received her B.A. in Mass Communications and French from Miami University and her M.Div. from Pittsburgh Theological Seminary. She has both worked and volunteered for non-profit Christian organizations for her entire career. She and her husband, Joe, have been married for 13 years, have two sons (Andy, 11 and Sam, 6) and two dogs (Rocky Balboa, 9 and Gordon Bombay, 2). She loves to travel, and has been privileged to spend time in 25ish different countries. She also loves coffee in every form, laughing until she cries, cheering just a little too loudly while watching her kids play baseball, and being a season ticketholder for the Cleveland Browns.